Begging is a Rs 15 crore pa industry in Hyderabad

Last updated on: July 10, 2005
Begging has become a lucrative profession in Hyderabad with the 10,466-odd alms-seekers making a whopping Rs 15 crore per annum.
This was found after a survey commissioned by the Hyderabad District Collectorate and conducted by a city-based non-Governmental Organistaion, Hyderabad Council of Human Welfare.
The district administration has planned to implement a rehabilitation package for beggars to wean them away from their favourite avocation. In all, 77 volunteers were involved in the two-month-long massive data collection exercise for the survey.
The survey reveals that one out of every 354 residents of Hyderabad is engaged in begging. Almost 21% of the 10,466 beggars earn above Rs 2,000 per month, while 47% make between Rs 900 to Rs 2,000 pm.
Another 30% earn less than Rs 900 a month. A whopping 92% of the average earnings of the beggars go towards food, followed by shelter, drug habits and entertainment.
Sixty-five percent of the beggars earn their money by direct soliciting and the remaining make their living through other methods such as devotional singing and exhibiting the portraits of gods etc.
The beggars include 5,814 males (55.5%), 4,615 females (44.1%) and 39 eunuchs (0.4%).
Almost 73% of the beggars are 'outsiders', including 66% from other districts and 7% from other states. Curiously, four foreigners (Nepalese) are engaged in begging in Hyderabad.
Most of the beggars (86%) belong to weaker sections, including Scheduled Castes (40%), Backward Classes (30%), Scheduled Tribes (12%) and minorities (4%).
Interestingly, the study found that 300 beggars who had migrated to Delhi had shifted back to Hyderabad as they found Hyderabadis to be more generous and God-fearing than the people of Delhi.
A shocking revelation, of course, is that 31% of 175 adolescent female beggars were sexually abused and 50% were physically abused. The abusers include street children (77%), street youth (13%) and cycle and autorickshaw drivers (10%).
Policemen, too, occasionally sexually abuse these girls. 67% of the girls were not aware of the risk of HIV/AIDS.
Among the places of begging, religious places are considered to be safe areas, while traffic junctions and footpaths, though more fetching, are viewed as risky by the beggars.
Religious places constitute 34% of the 'begging spots', followed by footpaths (15%), commercial centres (12%) and traffic junctions (8%).
Also, 41% of the beggars have their own dwellings such as huts or makeshift homes, while 20% live on pavements, 11% under bus shelters, 15% in railway stations and the remaining in parks and religious places.
A whopping 85% of the beggars have come into this profession on their own accord, while 12% have been forced to beg by their parents. As many as 43% of the beggars are able-bodied persons.
Begging as a phenomenon increased in the state capital as a result of the prolonged drought affecting the agriculture sector in the districts. With able-bodied men and women migrating to construction sites to find work, the old and the infirm are left to their fate. Many of them join the ranks of the destitute in the city.
Hyderabad District Collector Arvind Kumar says that the district administration will provide identity cards and rehabilitate all the beggars within six months.
Once this is done, the administration will strictly enforce the Andhra Pradesh Prevention of Begging Act 1977 to eradicate begging in the city. The Act includes penal provisions like imprisonment up to two years.
The district administration will provide night shelter for homeless beggars in the homes run by various departments.
Children, disabled persons, adolescent boys and girls, men and women, old and infirm persons will be covered under one scheme or the other for their rehabilitation.
The administration will coordinate with various agencies to implement the action plan. The NGO will be involved in the rehabilitation of beggars.
The SC, ST, BC and Minority Welfare Departments will identify the able-bodied among the beggars who constitute 54% of the alms-seekers and who are ready to avail self-employment schemes to give up begging.
For the aged and infirm, old age pensions will be given and ration cards will be issued for supply of rice under the Annapurna Anna Yojana at Rs 3 per kg.
Children will be admitted in residential bridge schools and adolescent girls will be lodged in homes run by the Women's and Child Welfare Department and provided education and vocational training.
Begging in Chennai: A Rs 30-crore business that refuses to go away
Ekatha Ann John
|

TNN

|

Jul 4, 2018,
Reluctance by police and lack of sufficient specialised homes for rescued children and infants have fed the be... Read More
CHENNAI: As the train pulled into Basin Bridge junction on Friday morning, Arunachalam's phone buzzed: Someone on board had alerted Childline volunteers at Chennai Central station about the children. Even before he disconnected the call, his teenage son jumped out, and hollered to the others. In five minutes, six children scrambled out of the compartments holding stacks of colouring books and stickers close to their chests. They knew what this meant – a meal less.

But for Arunachalam, who heads a community of 30 families engaged in begging, this was a minor hitch in an otherwise thriving business. "We will make up for the loss tomorrow," he said, cleaning a pair of dark shades before sporting them. The group, hailing from Avadi, then split – one headed to Vepery, while the other, led by his son, went to Purasawalkam. It wasn't fear as much as inconvenience that made them disembark before their intended destination. "We will lose a day's earning trying to get these children out," he said.

Arunachalam is among four leaders of beggars' groups TOI met over the course of a month to unravel their vast network – involving railway porters, autorickshaw drivers and police – and to dig deep into their pockets to fish out an economy with an annual turnover of more than Rs 30 crore, as estimated by officials who rescue children. Women with infants and children below 12 bring in 70% of this revenue – a figure validated by these leaders and supported by the number of rescues.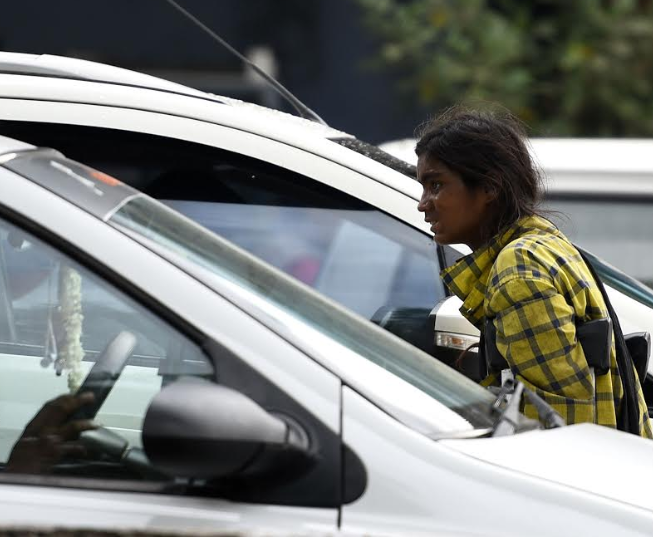 A woman begs at a traffic signal in Chennai (TOI photo by C Suresh Kumar)

In two drives by Chennai police last year, which officials promised would be concerted, 107 child beggars were rescued. All of them were restored to their families. At least three of these children surfaced again in the state's records this year when a drive by police in April resulted in 54 children being "rescued". "They rounded up any child sitting alone on the road. We had to let all of them go," said Sheila Charles Mohan, member of Child Welfare Committee, Chennai.

Reluctance by police and lack of sufficient specialised homes for rescued children and infants have fed the beggars' network in the city. While a majority of them commute by buses and trains from Tiruvallur and Andhra Pradesh to beg in the city daily, a large proportion of them are migrants from Bihar, Odisha and West Bengal, who make a pit-stop in the city, especially during festival seasons, before heading to Kerala to beg. While, according to the 2011 census, Tamil Nadu has 6,814 beggars and vagrants, officials are in the dark about the number of them in the city.

TOI, with the help of Chennai district child protection unit and Childline, identified at least 10 locations where beggar 'clans', comprising 30 to 50 families, each with six to eight children, stay. Eight of these groups are from Tiruvallur.

And trains are the most common mode of transport. "The prevalence is higher in suburban trains," said S Arunmozhi, project coordinator, Childline Foundation. However, for every 10 calls Childline's 1098 helpline receives to report on children found begging, or selling products in trains less than two land in the net. "They get a tip-off and disembark at Basin Bridge," said a railway childline coordinator. Thereafter they either beg close to the station or board a train heading towards Beach Station, she said. The most frequented suburban routes used by these groups are the Arakkonam-Chennai and Chengalpet-Tambaram-Beach routes.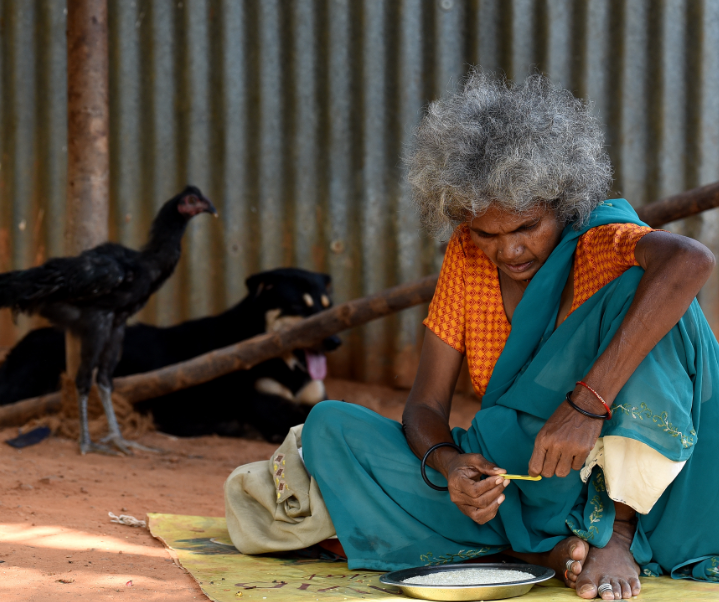 Beergammal, who has been begging for the last 60 years. (TOI photo by A Prathap)

V Natarajan is the leader of one such community from Kanniamman Nagar, 12km from Avadi. Although he doesn't personally accompany the groups that set out to beg, he sends at least one man to escort the women and children.

"They go to different areas and are constantly on the move to avoid police attention," he said. They earn the most from Tidel park, Marina Beach and Besant Nagar beaches and Koyambedu bus stand. "Each child makes around Rs300-400 a day. If they sell books and stickers (which are procured every week from a shop in Parry's corner), they earn around Rs600," he said. The books, he admitted, are just a ruse to mislead police.

"We also advise our girls to gently touch women when they ask for money. It makes a difference," he said. At a 90-second signal, a beggar can cover at least 20 vehicles. "We have to be quick and cover as much as we can. Our first pointer is if they look at us as we approach, they usually give," said Natarajan. On an average, they make around Rs20-Rs50 every time the signal turns red. And, on rare occasions, Rs 100.

P Manoram, director of CHES, a collaborating partner of Childline Foundation, said most of their calls to report on child beggars come in the morning between 8 and 10 am and in the evening from 6.30 to 8.30 pm. "They all come as a big group and split into smaller groups of 3-4 women with infants and children and one or two men. The minute a volunteer tries to rescue them the men mobilise the locals to create a hue. It is impossible to recue these children without police help," she said.

The infants are either carried by the mother or given to another woman within the community. "We don't know if the babies are sedated, but we have found white tablets in a couple of these women's bags," said an official in the district child protection unit.

While officials maintain that trafficking of these children by begging networks here are minimal a recent study by the criminology
Most child beggars pushed into 'business' by parents in Kapurthala, say rescue teams
Kids rescued are produced before the Child Welfare Commission. The city however does not have a child protection home for rehabilitation.
punjab
Updated: Mar 11, 2018 14:30 IST
In a statewide campaign to prevent child begging, the district administration rescued 14 children in last two months in Kapurthala, mostly being pushed by their own parents, rescuing teams have found.
However, all children were handed over to their parents after issuing a warning. No legal action has been initiated against parents by the district administration or police department under the Juvenile Justice (Care and Protection of Children) Act, 2015.
On Thursday, a team of district child rights commission, led by local police had found 4 minor children begging at city bus stand.District child protection officer (DCPO) Harpreet Kaur Sandhu said the children revealed that they did not go to school and their parents forced them to beg."The Right to Education (RTE) Act is being violated as parents enrol their wards in schools and avail facilities offered by the government, but do not allow their kids to attend classes," Sandhu said.
She added "We have given a stern warning to the parents of rescued children, before handing over their wards to them. If their children are found begging again, an FIR under the Juvenile Justice Act will be registered against them."She said, so far no FIR has been registered against any parent, as in some cases they pled innocence and cited reasons such as extreme poverty.
Kids rescued from begging are produced before the Child Welfare Commission (CWC). The city however does not have a child protection home for rehabilitation, forcing officials to hand over the rescued children after issuing a warning to their parents.
Bachpan Bachao Andolan activists claim that some gangs might be operating a begging racket in the region but the administration lacks the mechanism to identify real parents of children. Moreover, they do not provide rehabilitation and monetary help to the rescued children and their families, due to this, they again start begging.
"Most beggars are migrants and their parents do not carry any age or identification proof. The department cannot afford to conduct DNA tests for every child. So we believe what their parents say," DCPO said.She said that now, they will recommend the police to immediately file an FIR against the parents, if their child is found begging in the district.
Begging was prohibited in Punjab through a legislation passed in 1971. Child beggars are a common sight at major traffic light points in the state. Under the Punjab Prevention of Beggary Act, adults found begging can be jailed up to five years and mandates that child beggars should be rescued and put in children homes
The Juvenile Justice (Care and Protection of Children) Act, 2015, legislated by the central government, has strict provisions to completely prohibit begging by children.Poor migrants, mostly from the eastern Indian states, push their children into begging, officials said.
3,00,000 children across India are forced to beg by cartels: Report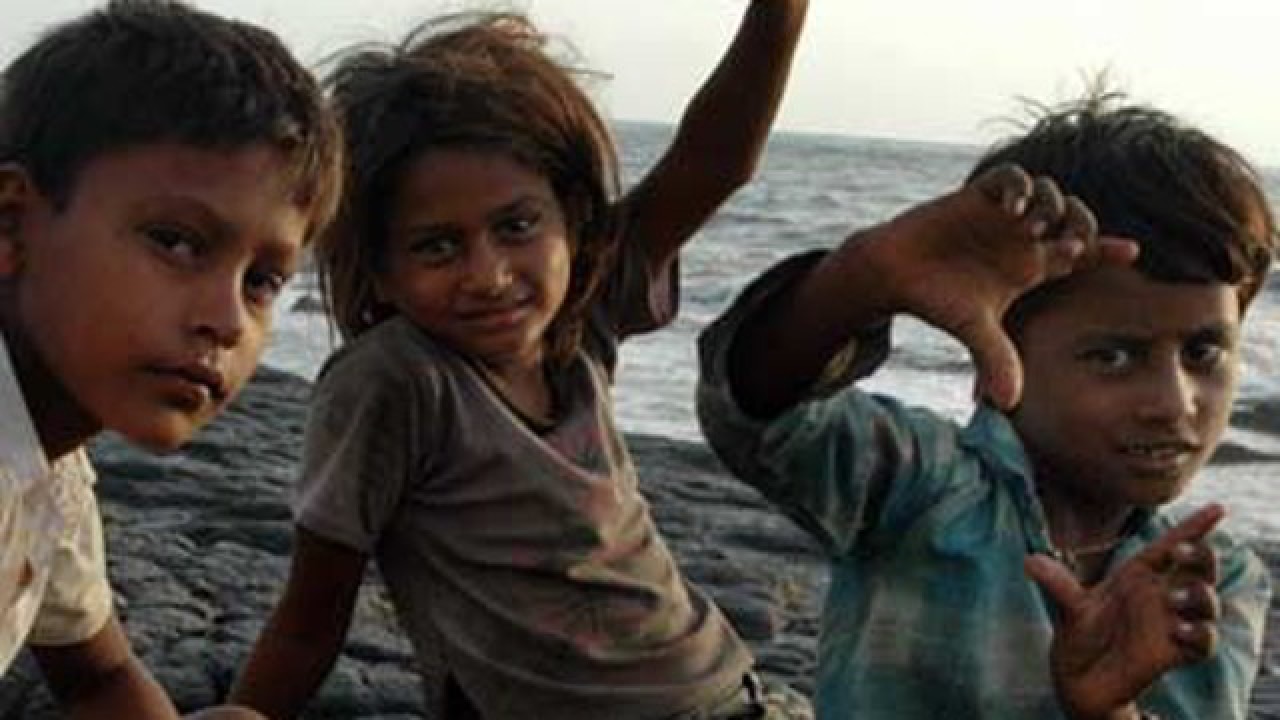 Child beggars Child beggars , File Photo
Updated: Jun 1, 2016, 10:03 PM IST
At least 300,000 children across India are drugged, beaten and forced to beg every day, in what has become a multi million rupee industry controlled by human trafficking cartels, police and trafficking experts said.Writing in a report which is about to be circulated across the country's police forces, the authors urged law enforcers to carry out greater surveillance of children living on the streets.According to the Indian National Human Rights Commission, up to 40,000 children are abducted in India every year, of which at least 11,000 remain untraced."The police don't think begging is an issue because they assume that the adult with the child is either family or a known person," said co-author Anita Kanaiya, CEO of The Freedom Project India, which works on trafficking issues.
"But for every 50 children rescued there will be at least 10 who are victims of trafficking. And there has to be a constant vigil to identify them," she told the Thomson Reuters Foundation.Children are sometimes maimed or burned to elicit greater sympathy and get more alms, said the report.The money they earn is usually paid to the traffickers, or to buy alcohol and drugs.
The report is based on the experiences of police and charities in Bengaluru city - formerly known as Bangalore - in the southern Indian state of Karnataka.There is a seasonal pattern to begging, local police said. Cities like Bengaluru see a sharp rise in the numbers of children wandering the streets just before festivals or after a natural disaster.In 2011, Bengaluru police launched "Operation Rakshane" ("To Save"). In coordination with various government departments and charities, they drew up a blueprint to help children forced into begging.
Months before carrying out a series of rescues, they spread out across the city, taking pictures of children on the street, documenting their daily activities and shadowing them back to their homes."When we started, we had nothing to prove the connection between begging and trafficking. But we went about meticulously recording any signs of forced labour on the streets of the city," Kanaiya said.According to inspector general of police, Pronob Mohanty, who spearheaded the operation, teams of police and health workers rescued 300 children on a single day across the city.
The traffickers were arrested and later imprisoned. "Operation Rakshane is meant to be a template which can be replicated as a model of inter agency cooperation," Mohanty said in the handbook, which includes suggestions for surveillance, data collection and rehabilitation, as well as listing relevant laws.
Kanaiya said: "We are now initiating a planned campaign to take the book to every police headquarter in the country and follow it up with a workshop on child (begging) and rescue operations for policemen."
Poor Dalit farmer teaches corrupt cop an unforgettable lesson
By Imran Khan
Patna
Asked to pay a Rs.1,000 bribe, a landless Bihar farmer begged to differ. And he vented his ire by collecting alms and sending the amount to Chief Minister Nitish Kumar with the request it be paid to the corrupt police officer who had asked for it.
Instead of cursing the system and his fate, Saurabh Kumar alias Chabila Paswan, a poor Dalit farmer in Vaishali district, about 40 km from here, gathered his family and begged on the streets to collect the bribe money.
Paswan sent the money to the CM's office with the request that it be paid to the police official if "the law permits"
The intrepid Paswan, his wife and children even slung placards around their necks to tell people why they were collecting money.
"I was angry and frustrated after I ran from pillar to post to lodge a police complaint. Then this innovative idea to fight against corruption came to my mind. I decided to beg to collect money to pay bribe," said Paswan, recounting how he was asked for a bribe from the Katahara police post in-charge when he went to lodge a complaint about threats to his life.
"I was shocked when a police official demanded a bribe of Rs. 1,000 from me for lodging a complaint that I was being threatened by some powerful people to be killed. When I told the police official that I'm not in a position to pay bribe, he made it clear that it was not possible for him to lodge his case."
Paswan added that he sent the money to the chief minister's office with the request that it be paid to the police official if "the law permits" or be deposited in the welfare fund.
"I had purchased 10 postal orders of Rs.100 denomination each and sent to the chief minister by Speed Post in a closed envelope. The envelope also has a petition detailing my plight," said Paswan over phone from his village Halaiya.
He also told the chief minister that nothing moved without palms being greased.
Senior police and administration officials refused to comment.
However, Vaishali Superintendent of Police Upendra Kumar Sinha said he had heard about the case. "Police will inquire into the allegations of bribe," he said. - IANS
Child Beggars
The Oscar winning film, 'Slumdog Millionaire', highlighted the plight of hundreds of thousands of children in India who are being forced to beg by mafia-style gangs. There are an estimated 300,000 child beggars in India, although some organisations claim it is as many as a million. Every year,

44,000 children fall into the clutches of the gangs

.
Children are deliberately maimed; amputation of limbs,

dousing with acid and blinding

. The worse the injuries a child has the more money they are likely to get. They are actually

taught in the art of begging and they are given beatings if they don't hit daily monetary targets

. To hide from their misery many child beggars fall victim of solvent, alcohol or drug abuse.
Again Gangmasters bribe their way into immunity. Needless to say the vast majority of child beggars are drawn from the Dalit community.
The more they are tortured or tormented, the more sympathy they gain when they beg. They are trained to approach certain kinds of people and use certain mannerisms, to extract even more money. There are many child beggars who are not mutilated, but those with the worst injuries make the most money, earning up to ten times the amount that millions in India survive on each day.
[poverty]
Of course the children do not see any of their earnings. These are handed over to the gangmasters, and if a child does not make their target that day they are beaten and tortured.
[addicted]
Almost all the child beggars are addicted to solvents, alcohol and charras (powerful Afghan hashish often laced with opium). This helps the children to forget where they are, but it also helps the gangmasters to keep them under control.
Archive for the 'Dalits / Aborigines' Category
Bangalore's beggars hit by government terror : 26 deaths in 72 hours
Mass death of

beggars continued at India's famous IT city, Bangalore. Body count reached 26 now. Since low caste beggars don't have any market value under hindutva's brahmin empire, their death is un accounted, unbreakable news to India's super patriotic media. Further, the Karnataka state is ruled by 'market friendly' right wing hindu fascist party aka BJP. These Hindutva idiots will blame ISI-underworld-extremist axis for every failure for their irresponsible governance.
The weapon industry orchestrated and media promoted "Bangalore serial blasts" killed only 1 women while the deaths of beggars reached 26 in 72 hours. Majority of these beggars are born in lower castes. Under ' Hindutva' thought, they don't deserve any media attention or state recognition. Hindutva never concern about the health of our poor citizens. H1N1 influenza (swine flu) has claimed 216 lives in Karnataka since January, 2009. Fake encounter killings and illegal detention of innocent people are more common in Hindutva ruled States like Karnataka and Gujarat. The famous counter terrorism expert, Bangalore City Police Commissioner Shankar Bidari, who visited the beggars city said the police have nothing to do with the incident!
At Beggars' Colony, 2,533 wretched men and women live in the twilight zone where life and death have lost all meaning.
Three out of every Rs 100 paid by Bangaloreans as property tax to the Bruhat Bangalore Mahanagara Palike (BBMP) goes towards rehabilitating beggars. Rs 24 crore out of Rs 800 crore collected last year should have been spent on the 2,500 beggars at the colony. These Hindutva thugs who rule the state don't have any respect to their fellow citizens if they are from lower class hindu communities. Even the security guards at the Beggars' Colony on Thursday were demanding bribes from the relatives of inmates who wanted to enter the premises to check the well-being of their sons, sisters, fathers and mothers.
Govt stand
Meanwhile, Home Minister V S Acharya on Thursday said the inmates of Beggars' Colony have died a natural death and that there was no outbreak of any communicable disease!
"Majority of the inmates are very old and ill. They will have very low immunity level. Death rate in such colonies will be more. Death of five to eight people every day is common in such places. That was why we thought a post-mortem was not necessary," he said.
Wish these beggars get voting rights!
Dalit Beggar Survey
http://books.google.co.in/books?id=Xcpa_T-7oVQC&pg=PA664&lpg=PA664&dq=dalit+beggar+survey&source=bl&ots=zSErCHoOu8&sig=nbdMAZxsDTN12hUNYaNvMy-FqLU&hl=en&sa=X&ei=9du6UNatNsSrrAejhIGQAQ&ved=0CD4Q6AEwAzgK#v=onepage&q=dalit%20beggar%20survey&f=false
Begger Survey
By Neeta Lal
A recent survey in Delhi revealed that many beggars are able-bodied and educated, forced into beggary by unemployment. The findings underscore the absence of a cohesive and humane national policy for beggars in India
If you thought penury, unemployment and disability were the only factors propelling people towards beggary, here's some news for you. A recent survey carried out by the social welfare department (Delhi government) and Delhi University's department of social work, reveals that the capital city's beggars, many of them 'educated and able-bodied', resort to begging to augment their professional incomes! Of over 5,000 beggars surveyed, four turned out to be post-graduates who were supplementing their monthly salaries by begging on weekends, six were graduates, and 796 had studied up to higher secondary level.
Conducted across a swathe of geographical regions, the survey shows that a beggar's earnings add up to between Rs 50 and Rs 500 a day, with most beggars opting to beg in the face of meagre earning capacity, poverty, infirmity, destitution, and age. Of those surveyed, 799 men and 1,541 women were able-bodied but continued to beg due to lack of employment opportunities. Many were found to be drug addicts, but they were not part of an organised gang or mafia. Unsurprisingly, most beggars were found outside temples and places of religious significance where alms are given more readily and more generously. The respondents also said they made more money on weekends.
While the survey throws some fresh light on the age-old occupation of begging, it also underscores the disquieting lack of a cohesive and humane national policy for beggars in India. Since 1961, Delhi has been administered by the antiquated Bombay Prevention of Begging Act, 1959, which makes begging in public places a crime and a punishable offence. Clause (d) of the Act describes beggars as people "...having no visible means of subsistence and wandering about or remaining in any public place in such condition or manner (as) makes it likely that the person doing so exists by soliciting or receiving alms".
Under this Act, officials from the social welfare department (assisted by the police) conduct raids to randomly pick up beggars who are then tried in a special beggars' court and, if convicted, sent to a certified institution. Unfortunately, however, the Begging Act lumps together an assortment of people (street performers, mendicants, small vendors, pavement-dwellers and migrants) who might solicit alms indirectly, as 'beggars'.
The Act also suffers from other serious lacunae. Firstly, it addresses anyone who appears 'poor' and 'destitute'. Both definitions are nebulous and open to the vagaries of time and the whims of an inspector. Thus, a ragpicker or a migrant labourer -- who may never have begged in his/her life -- can be picked up at random and incarcerated in a beggars' home for a period up to three years at a stretch! Secondly, the nature of the Act itself is punitive, which makes the poor criminally responsible for their position.
India's beggary laws are undoubtedly a throwback to the centuries-old European vagrancy laws that overlook the crucial difference between official text and practical reality. In other words, rather than address the socio-economic angle of beggary, beggary laws criminalise it. "The aggressive anti-beggar legislation is aimed at wiping the desperately poor off the city's radar so that society can continue to neglect them without it pricking its collective conscience," says senior lawyer and human rights activist Rani Jethmalani.
In addition to this, the Traffic Police Notification (under the Motor Vehicles Act) provides for the imposition of a fine on motorists who give money to beggars. The Delhi Traffic Police has issued a direction to all motorists in the capital not to give alms to beggars at traffic lights, as this hinders traffic flow, sometimes even causing accidents. The fine for a first violation is Rs 150; the second time around it is Rs 300.
"The law prevents motorists and commuters from doling out alms to beggars at traffic intersections, which is ludicrous as it's unfeasible to stop them from doing so," asserts Jethmalani. Instead of enforcing such inane laws, Jethmalani advocates the need to set in motion public awareness campaigns and vocational training for beggars depending on their capacity. "Rather than giving alms, the public should be motivated to give aid to institutions which can empower and educate the beggars," she says.
Organised begging, which often involves maiming, is widely seen as being exploitative and coercive, but there is a startling lack of documented evidence on this. The Indian Penal Code (Section 363 A) deals with the kidnapping/maiming of a minor for purposes of begging. However, the police seem intriguingly unwilling to use this, preferring to book 'unwanted elements' like homeless people/drug addicts in their area under the Bombay Act, as their responsibility then stops with the arrest. Thus, the current institutionalised approach to beggars merely serves to punish destitute people without aiming to help or reform them. Driven to begging, these people -- often unemployed, aged people, people with physical disabilities or drug problems -- remain helpless.
Beggary laws also suffer from faulty implementation. The criteria employed by the social welfare department and the police to identify and pick up beggars are arbitrary and unfair. Mistakes abound and often those who look unkempt and miserable are rounded up despite their protests. In order to combat this legal apathy, a coalition comprising lawyers from the Ashray Adhikar Abhiyan (AAA), a campaign for the homeless in Delhi, run by ActionAid, the Human Rights Law Network and students from the law department of the University of Delhi, was set up to provide legal help to aggrieved people.
In its efforts to make Delhi 'beggar-free', the social welfare department has been working towards rehabilitating them. The Delhi High Court too, some time ago, directed the department to clear Delhi of beggars/hawkers as they "obstruct the smooth flow of traffic". It advocated a rehabilitation plan for them in the wake of a public interest litigation (PIL) that described beggars as the "ugly face of the nation's capital" and as people who caused "road rage".
Under the Beggary Act, 12 statutory institutions -- 10 for male beggars and two for female beggars -- were constituted for the prevention of begging, the detention, training and employment of beggars, and the custody, trial and punishment of offenders under the law. "We've also made provisions for providing vocational training to beggars in these government-run homes," explains Dr Sneh Lata Tandon, Head of the Department of Social Work, Delhi University.
But despite such laudable -- albeit sporadic -- efforts to rehabilitate beggars, there's an urgent need to revamp beggars' homes too. Some years ago, the national media raised a storm when several beggars died of cholera at the Lampur beggar home, underscoring the horrific, near-Dickensian conditions that prevail in these homes. An inquiry was ordered into the matter and the committee's report highlighted the need for a review of the law. "These places are called 'homes', but the pathetic conditions which prevail in them are worse than those of third-rate jails where 'convicts' may be incarcerated for up to 10 years. It's the most sure-fire way of criminalising poverty in the country," says social activist Jaya Pradhan.
"The beggar homes feed and clothe their inmates and pay Rs 12 for an hour of constructive work," says an official from the social welfare department. "The physically challenged and those afflicted with leprosy find beggar homes a real refuge as they are the ones who suffer the most living on the streets." However, experts feel that such an approach is skewed because, according to official figures, the government spends approximately Rs 35,000 per head to maintain these homes. The money, experts say, could be better utilised to give beggars vocational training that can, in turn, empower them and assure them of employment.
"The first step towards preventing begging is to stop giving alms. But how can people expect any effective action when begging is such a lucrative means of livelihood, allowing a person to earn up to Rs 500 a day doing nothing," asks Supreme Court advocate Ashok Aggarwal of Social Jurists, a Delhi-based civil rights organisation.
A study by the Centre for Media Studies (CMS), a Delhi-based research group, pegs a beggar's average earnings at around Rs 50 a day. According to this report, 90% of Delhi's beggar population are migrants from the BIMARU states of Rajasthan, Uttar Pradesh and Bihar. A study conducted by AAA India shows that nearly all of them were pushed to Delhi by abject poverty in their hometowns and villages. "With no sense of belonging to a place, no employment opportunities, and easy money for the asking, is it any surprise that we've not been able to eradicate beggary from the national landscape," Aggarwal asks.
So what really is the answer to the problem of beggary in India? The question, unfortunately, is a complex one. For starters, recognising and combating structural injustices in society and expanding livelihood options for the marginalised -- in a growth-driven and now shining trillion-dollar economy -- is a good idea. But simultaneously it is crucial to have an inclusive legal system that incorporates the welfare of the deprived/downtrodden in its charter.
The problem of beggary in India needs to be addressed cohesively, involving sustained, long-term and collective action. Political will, the efforts of local administrations, NGOs and the public will all need to come together to achieve this aim.
(Neeta Lal is an independent journalist based in Delhi)
Hundreds of thousands of children in India are being forced to beg, often by unscrupulous mafia-style gangs. Many of the children are trafficked into gangs, some are kidnapped, others may have been handed over by their family out of desperation or because they have been duped. Every year some 44,000 children fall into the clutches of the gangs.
As portrayed so vividly in the Oscar winning film, Slumdog Millionaire, some of the children are deliberately maimed. Arms and legs are forcibly amputated, others are cruelly blinded. The gangs also pour acid on to children's bodies leaving them with suppurating wounds. The more they are tortured or tormented, the more sympathy they gain when they beg. Children are trained to approach certain kinds of people and use certain mannerisms, to extract even more money. There are many child beggars who are not mutilated, but those with the worst injuries make the most money, earning up to ten times the amount that millions in India survive on each day. Of course the children do not see any of their earnings. These are handed over to the gangmasters, and if a child does not make their target that day they are beaten and tortured.
Many child beggars are addicted to solvents, alcohol and charras (powerful Afghan hashish often laced with opium). This helps the children to forget where they are, but it also helps the gangmasters to keep them under control.
Maimed child beggars are terrified of speaking out – they say their limbs just disappeared or were damaged in an accident. The beggar mafia make more than £20 million a year, and this kind of money and power ensures that complaints to the police don't get anywhere as gangmasters bribe their way to immunity. Even where children are taken off the streets and put in government shelters, many are re-trafficked back into begging.
The children who are the most vulnerable to gangmasters are Dalits (Untouchables) or Tribals (Adivasis), due to their poverty and how lowly they are regarded in society. But whether they are kidnapped or sold into beggary, it is too high a price to pay.